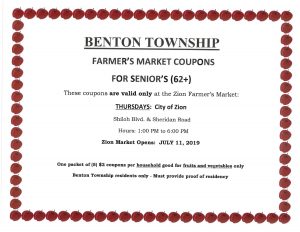 CLICK TO PRINT Farmer's Market 2019 Coupons
AARP Driving Classes will be held on the following dates :
June 8 & 9
August 24 & 25
October 19 & 20
All classes are held at :
Zion-Benton Public Library
2400 Gabriel Ave. Zion,IL
Class time is 10AM – 2PM.
Please call Benton Township – (847) 746-2100 to register
Medical Trips
ElderCare at Christ Church offers personalized medical trips for residents over the age of 65 (need 10 day notice). A donation is requested, but not required. They also have volunteers to help with grocery shopping and home visits. Call: 847-406-4683 or email: info@eldercarelakecounty.org.
Free Amplified Phone Applications
Neither age nor income a requirement. Pick up application at Township office.
Free Senior Activity Guide Available at Township Office.
Lending Closet @ Antioch Sr.Ctr 847-395-0139 anyone may borrow wheelchairs, walkers, etc.
Handicap Parking Applications available at Township office.
MEALS ON WHEELS call (847) 546-5733 ask for meals on wheels program.
SENIOR NUTRITION PROGRAM:
Senior Nutrition Program Every Tuesday 1 PM till 2:30 PM
Zion Park District Shiloh Center, corner of 27th St. & Emmaus Ave., Zion
Northern IL. Food Bank provides a variety of Food at NO CHARGE.
Open to anyone 60 years of age or over (age 55 if ZPD Senior Club member).
Need Driver's License or State I.D. for age approval.
Senior Transportation:
Discount Half price taxi fare for seniors 65 + and disabled residents. Maximum up to $5.00. Must apply in person at the township office to get your ID.
PACE Dial-A-Ride
For ALL Benton Township residents. Service available Monday thru Friday 8:30 a.m. to 5:30 p.m. Must call 1-800-201-6446 one day in advance to secure a seat.  Area Served: Beach Park, Winthrop Harbor and Zion. Also Tuesdays & Thursdays 8:30 a.m. to 3:30 p.m. Gurnee and Waukegan area for shops and medical appointments.