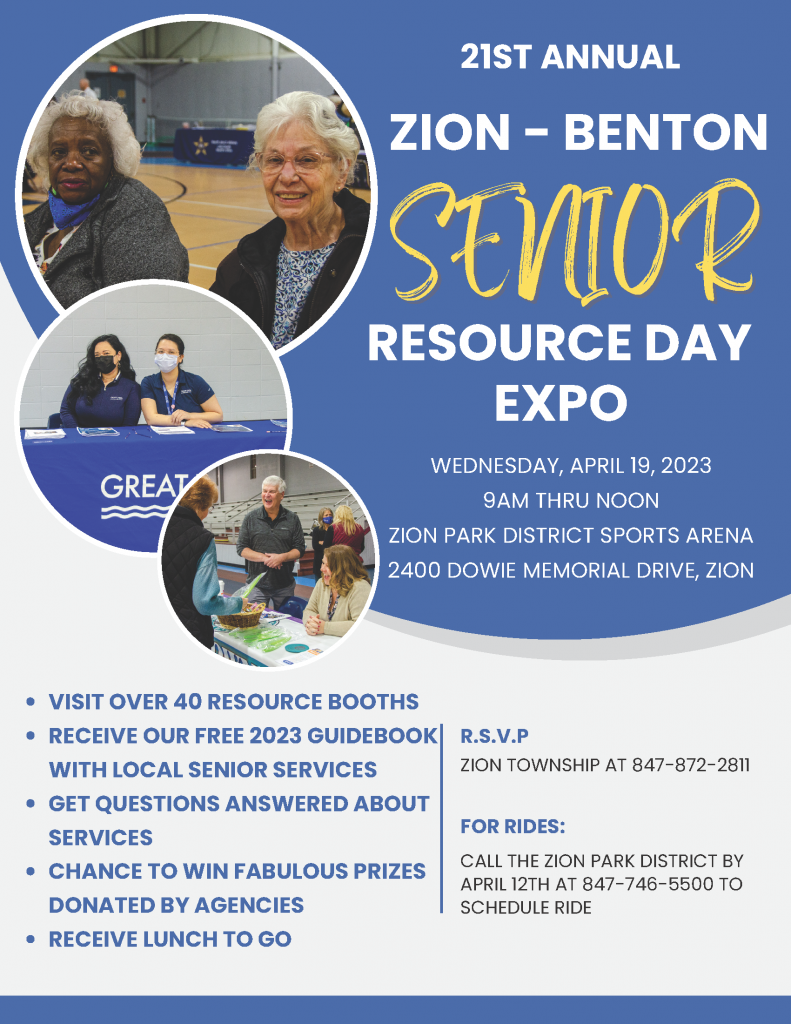 AARP Driving Classes will be held on the following dates :
Future dates to be determined.
Please check back for updates.
All classes are held at :
Zion-Benton Public Library
2400 Gabriel Ave. Zion,IL
Class time is 10AM – 2PM.
Please call Benton Township – (847) 746-2100 to register
Medical Trips
ElderCare at Christ Church offers personalized medical trips for residents over the age of 65 (need 10 day notice). A donation is requested, but not required. They also have volunteers to help with grocery shopping and home visits. Call: 847-406-4683 or email: info@eldercarelakecounty.org.
Free Amplified Phone Applications
Neither age nor income a requirement. Pick up application at Township office.
Free Senior Activity Guide Available at Township Office.
Lending Closet @ Antioch Sr.Ctr 847-395-0139 anyone may borrow wheelchairs, walkers, etc.
Handicap Parking Applications available at Township office.
MEALS ON WHEELS call (847) 546-5733 ask for meals on wheels program.
SENIOR EVENTS:
Current Events held at Zion Park District Shiloh Center, corner of 27th & Emmaus Ave. Zion.
Follow the link for dates, times and activities
https://zionparkdistrict.com/55-and-over/
PACE Dial-A-Ride
For ALL Benton Township residents. Service available Monday thru Friday 8:30 a.m. to 5:30 p.m. Must call 1-800-201-6446 one day in advance to secure a seat.  Area Served: Beach Park, Winthrop Harbor and Zion. Also Tuesdays & Thursdays 8:30 a.m. to 3:30 p.m. Gurnee and Waukegan area for shops and medical appointments.